We had Thomas's birthday party on Sunday. Thomas wanted to have a Star Wars party so we did all things Star Wars. This was the first year that we let him help pick out everything (on a budget of course). These days he loves super heroes, anything related to science, and star wars. He has grown up so fast! I find myself wondering what happened to my little boy. He is so big now!
I made the invitations using an invite we found online. They turned out pretty cute. Thomas loves to play Lego Star Wars on the Wii with dad so it was a perfect find for us. They were cheap to make too because I just printed them from Walgreens for 10 cents each.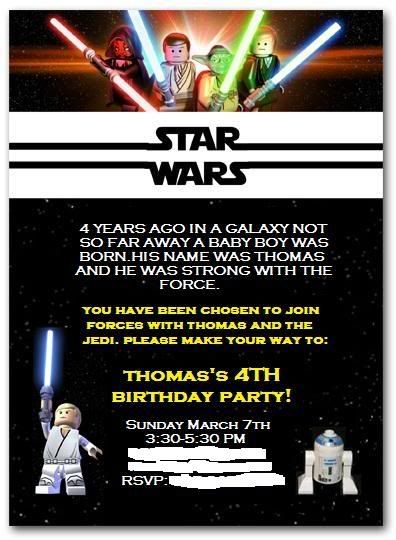 We ordered our cake from Ginny's Cakes here in North Liberty. Normally I am not one to do the custom cakes but she also did Oliver's first birthday cake. I was so impressed I wanted her to make a cake again for us! She did such an awesome awesome job! She custom made us an R2D2 cake exactly like I wanted it to be! Thomas's face lit up when he saw the cake. R2D2 was a big hit with everyone else at the party too!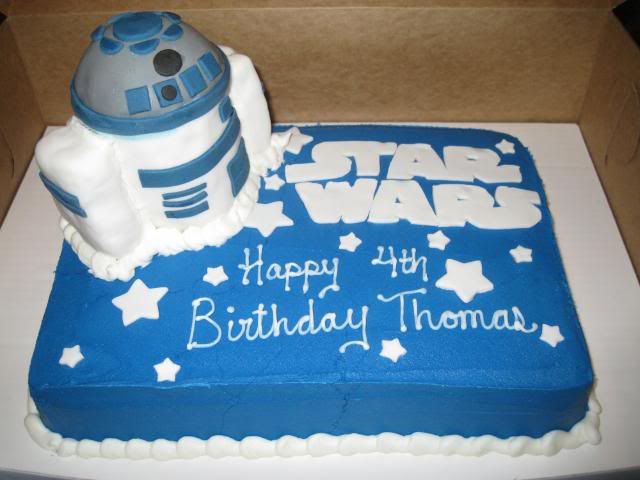 I tried to get a couple of pictures taken for all the out of town people that couldn't make it. We decorated the place black, blue, and green and with little stars everywhere.
Thomas got lots of presents and loves his new toys. We are going to be getting rid of some of his old things he doesn't play with anymore. We will be donating them this weekend with a special post-birthday party trip. We do this every major holiday and birthday to keep it simple around here.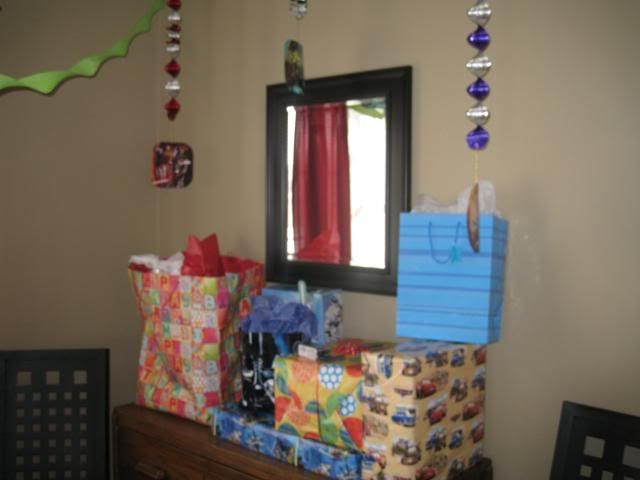 Here is another photo of the main living area. Brent set up some fun music for us to listen to during the party. We played star wars music of course plus a bunch of Thomas's favorite songs and a few party songs.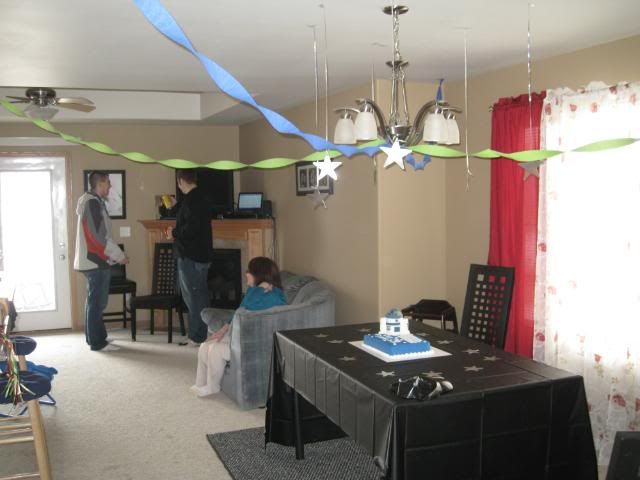 Here is Thomas with his birthday cake! He was smiling so big!!!
Here Thomas and Austin are posing by the big Darth Vader and Yoda poster we found at a party store. It was a lucky find and you can be sure it will be going up in the basement play room!
These were the "yoda sodas" we made. They were made with lime sherbet, ginger ale, and lemon lime soda. They were extra fizzy and green like yoda! I found them online and couldn't resist, it was too cute of an idea to pass up! We also served "galactic pizza" and "space snacks."
And what is a party without a couple presents? Here Thomas is opening some cool star wars gear. All the kids had a blast testing out the new toys.
Grandma got him a star wars coloring book and pajama set too!
Oliver was so cute at the party. He was calm here but he loved the balloons and the remote controlled R2D2 his brother got.